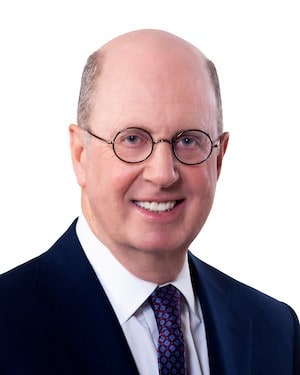 Ross Bennett Gampel
Mr. Gampel is a trial lawyer with more than 33 years of experience, having tried more than 300 cases to verdict before a jury and having represented thousands of clients in mediations, arbitrations and administrative hearings. He has dedicated his career to helping and fighting for individuals who have suffered grievous injuries and injustices at the hand of individuals, large corporations and insurance companies. He has demonstrated his trial skills and tireless work ethic by winning significant jury verdicts and by forging favorable settlements after spending days or sometimes weeks in trial. Mr. Gampel has repeatedly obtained favorable results for his clients with many cases resolving for millions of dollars.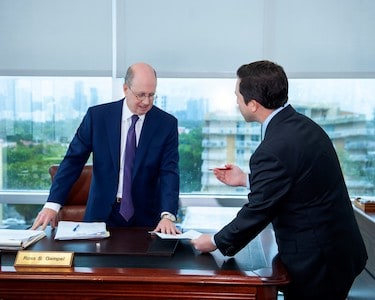 He represents clients who have suffered damages from serious personal injuries, wrongful death, construction site accidents, product defects, medical malpractice, legal malpractice, PIP claims, insurance company bad faith, nursing home abuse and securities fraud or negligence. He has also gained significant experience over the years by representing clients involved in complex commercial litigation, libel claims and in defense of medical malpractice and automobile negligence claims. Mr. Gampel exhibited his dedication to his clients and his strength of conviction to achieve his goals of justice for each and every client, no matter how much time, effort or amount of financial resources he must spend on a case, when he finally concluded one case after two jury trials, two appeals and 2 bad faith cases against insurance companies after more than 27 years of litigation.
Mr. Gampel graduated early form high school in New York City at the age of 16, graduated from the University of Florida with a B.A. degree in 1975, with Honors, and then remained a Gator by immediately entering law school. He graduated from the University of Florida School of Law with his Juris Doctor degree in 1977, just a few days after celebrating his 23rd birthday.
His interest in becoming a trial lawyer was first piqued in 1976 while working in New York City on the 78th floor of the World Trade Center as a law clerk for Louis J. Lefkowitz, Attorney General of the State of New York. His interest was later strengthened during his time completing a legal internship with the State Attorney's office in Palm Beach County, Florida in 1977. It was there that Mr. Gampel tried his first case before a jury and determined that he had found his life's calling.
Mr. Gampel was admitted to the Florida Bar in 1978 and to the Bar of the United States District Court for the Southern District of Florida (Federal Court) in January of 1979. By 1983 he had already qualified for, and became a member of, the Trial Bar of the United States District Court for the Southern District of Florida.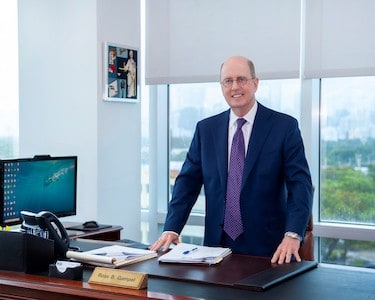 Mr. Gampel then moved south and began working primarily on cases involving complex commercial litigation with a law firm in Coral Gables, Florida. He successfully tried his first civil case that year in West Palm Beach. He was then fortunate enough to marry his wife Judi and began working as the sole trial attorney in a very busy plaintiff's personal injury law firm in Miami. After gaining significant trial experience in a relatively short period of time, Mr. Gampel went out on his own and spent the next 9 years building a successful law firm primarily by going into court and trying personal injury lawsuits not only for his own clients, but for many other injured victims who were referred to him by attorneys throughout Miami who thought they could best help their clients by referring them to Mr. Gampel and having him personally take their case to trial in court.
In 1989 Mr. Gampel entered into partnership with Herman Klemick (who is now retired), where he maintained his role as the law firm's sole trial attorney for these past 30 years. While spending most of his time litigating and trying cases in the State and Federal Courts of Miami-Dade, Broward, Palm Beach and Monroe counties, Mr. Gampel also represented clients in New York, California and elsewhere.
In addition to his litigation and trial work, Mr. Gampel has spent considerable time and effort successfully representing clients by performing significant appellate work. He has personally written legal briefs and also handled the oral arguments before the appellate court. He has long maintained memberships in the Florida Justice Association (formerly known as the Academy of Florida Trial Lawyers) and the American Association for Justice (formerly known as the Association of Trial Lawyers of America).
While raising two wonderful sons (Brian, a lawyer with whom he now works side by side; and Bradley, a medical doctor practicing as a pediatrician in New York), he has also maintained active roles in numerous charitable endeavors, served as a member of the Board of Directors of Bet Shira Congregation and as a member of the Citizens Advisory Board of the Pain Management Center at Deering Hospital in Miami, Florida.
Education
J.D., University of Florida School of Law, 1977
B.A., University of Florida, 1975
with Honors
Jurisdictions Admitted to Practice Florida, 1978
Bar of the United States District Court for the Southern District of Florida (Federal Court), 1979

Professional & Bar Association Memberships
Florida State Bar