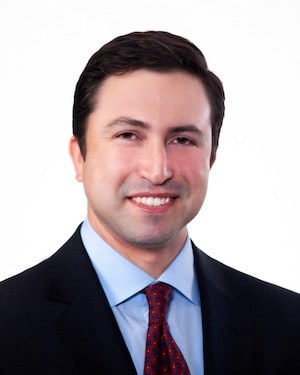 Brian P. Gampel
Brian P. Gampel was born and raised in Miami, Florida. He graduated from high school at Ransom Everglades School, in Coral Gables, in 2002. Following an early life in the Florida sun, Brian decided to spread his wings and spend a few years in the freezing cold when he attended college at University of Wisconsin – Madison. There, he attained a B.A. in 2006, earning Honors in his Major (English Literature) and a Certificate in Jewish Studies. Brian knew in his heart, however, that he was a Floridian for life. Brian returned home to South Florida for law school and received his Juris Doctor degree from University of Miami School of Law in 2009.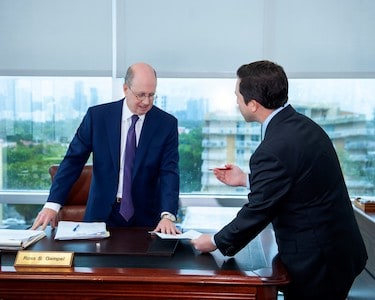 For the first five (5) years of his legal career, Brian represented clients in large value, complex commercial litigation cases, with the law firm Hoffman & Hertzig, P.A. There, Brian litigated commercial civil lawsuits on a wide variety of matters, such as trucking accidents, aircraft crashes, aircraft failures, medical malpractice, consumer products liability, as well as business fraud and misrepresentation. This experience allowed Brian to gain a thorough, detailed understanding of several federal and state statutes which are designed specifically to protect individuals and business from the negligent or wrongful acts of others, such as § 766.101, Fla. Stat., et seq. (Florida Medical Malpractice); § 501.201, Fla. Stat., et seq. (Florida Deceptive and Unfair Trade Practices); 49 U.S.C. § 14706, et seq. (Carmack Amendment – Interstate Motor Carriage); and 15 U.S.C. § 2301, et seq. (Magnuson-Moss Warranty Act).
Brian next gained vast experience in personal injury litigation, defending insurance companies and large businesses for the past five (5) years with the well-respected South Florida defense firm, Simon, Reed & Salazar, P.A. There, Brian honed his skills litigating high value injury claims, including premises liability, medical malpractice, slip and fall/trip and fall, wrongful death, and catastrophic motor vehicle accident cases. (During this time, Brian was also fortunate to gain experience representing clients in a wide variety of other types of matters, such as insurance coverage disputes, interstate cargo and trucking damage cases, and commercial breach of contract actions.) Through this experience, Brian gained invaluable knowledge and insight into how the defense side evaluates claims, assesses liability, and ultimately determines a settlement value.
Recently, Brian made the incredibly rewarding decision to join his father, founding partner Ross Bennett Gampel, at the law firm, Klemick and Gampel, P.A. For Brian, family and community are the highest priority aspects in his life. At Klemick and Gampel, P.A., Brian represents catastrophically injured victims of negligent and wrongful acts. Brian frequently draws upon his significant experience on the defense side of arguments, in order to gain a broad perspective and to strategize a proper course of action. Brian represents injured persons and businesses in a wide range of civil actions, including medical negligence, products liability, wrongful death, commercial disputes, as well as trucking accidents and cargo damage. Brian found his true calling as a litigator, representing significantly injured individuals and victims who need his help to recover large monetary damage awards.
If you have been injured or otherwise damaged through the negligent or wrongful conduct of another person or business, please call Brian at Klemick and Gampel, P.A. to discuss your potential claim.
Education
J.D., University of Miami School of Law, 2009
B.A., University of Wisconsin-Madison, 2006
Jurisdictions Admitted to Practice Florida, 2009
U.S. District Court, Southern District of Florida

Professional & Bar Association Memberships
Florida State Bar